Product Features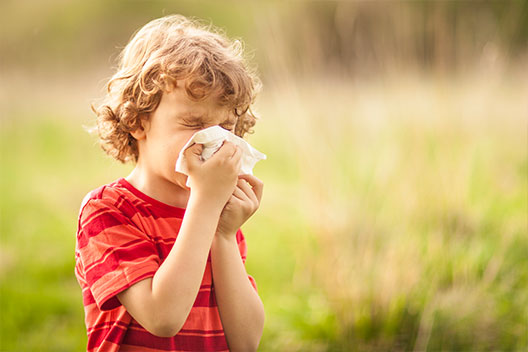 Dermatologist-Tested Lotion Tissue
Take care of a runny nose, stuffy nose, or puffy nose with our dermatologist-tested, dye-free and fragrance-free lotion tissue.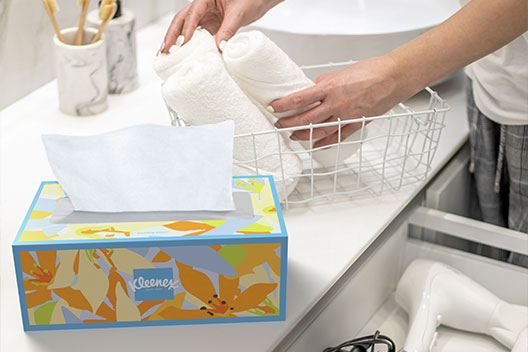 Protect, Soothe & Nourish Skin
Say hello to comfort and goodbye to skin irritation: Features 3-in-1 skin-loving benefits that helps protect, soothe and nourish skin.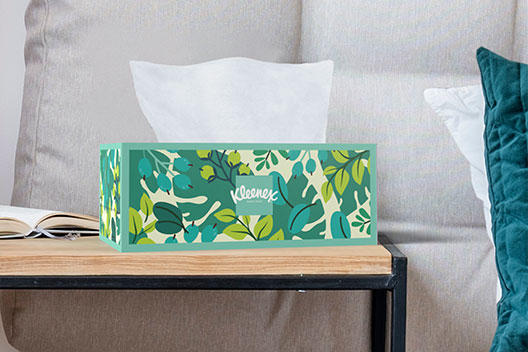 Great for Cold & Flu Season
One tissue of Kleenex is all it takes and helps protect hands better with three thick layers during cold and flu season.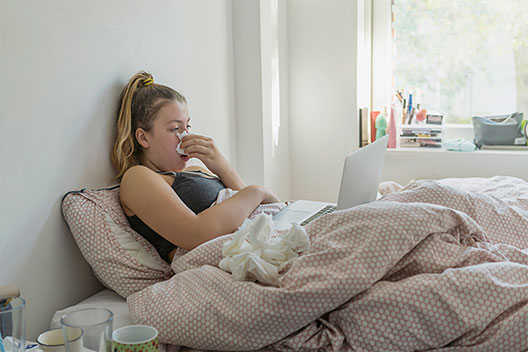 3-Ply Tissue for a Red Nose
Kleenex is a hygenic way to comfort your face and keep your hands clean—each facial tissue contains the mess better with 3 plies to help protect your hands.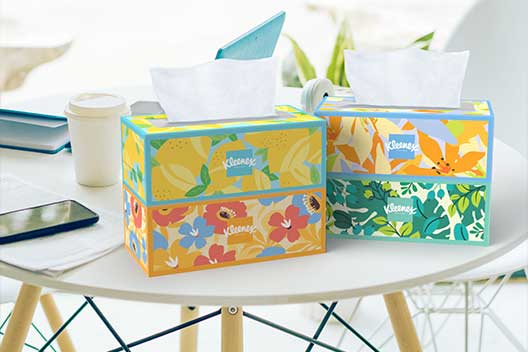 Get Facial Tissues Delivered
Got hay fever during pollen season or just feel like staying in? Skip the store and get Kleenex Perfect Fit Facial Tissues delivered.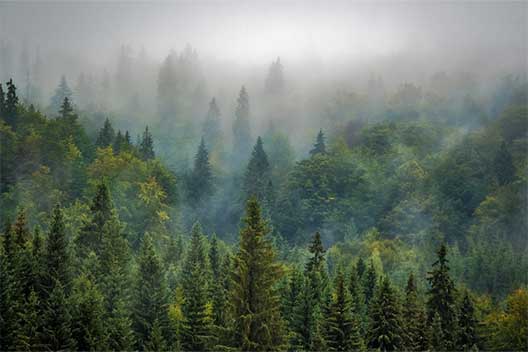 Sustainable Tissues
100% of our pulp is from responsibly managed forests and each tissue box's design can fit your home—contains various colors and designs.
Learn more about our Soothing Lotion tissue
Featuring must have benefits to help nourish skin and protect hands.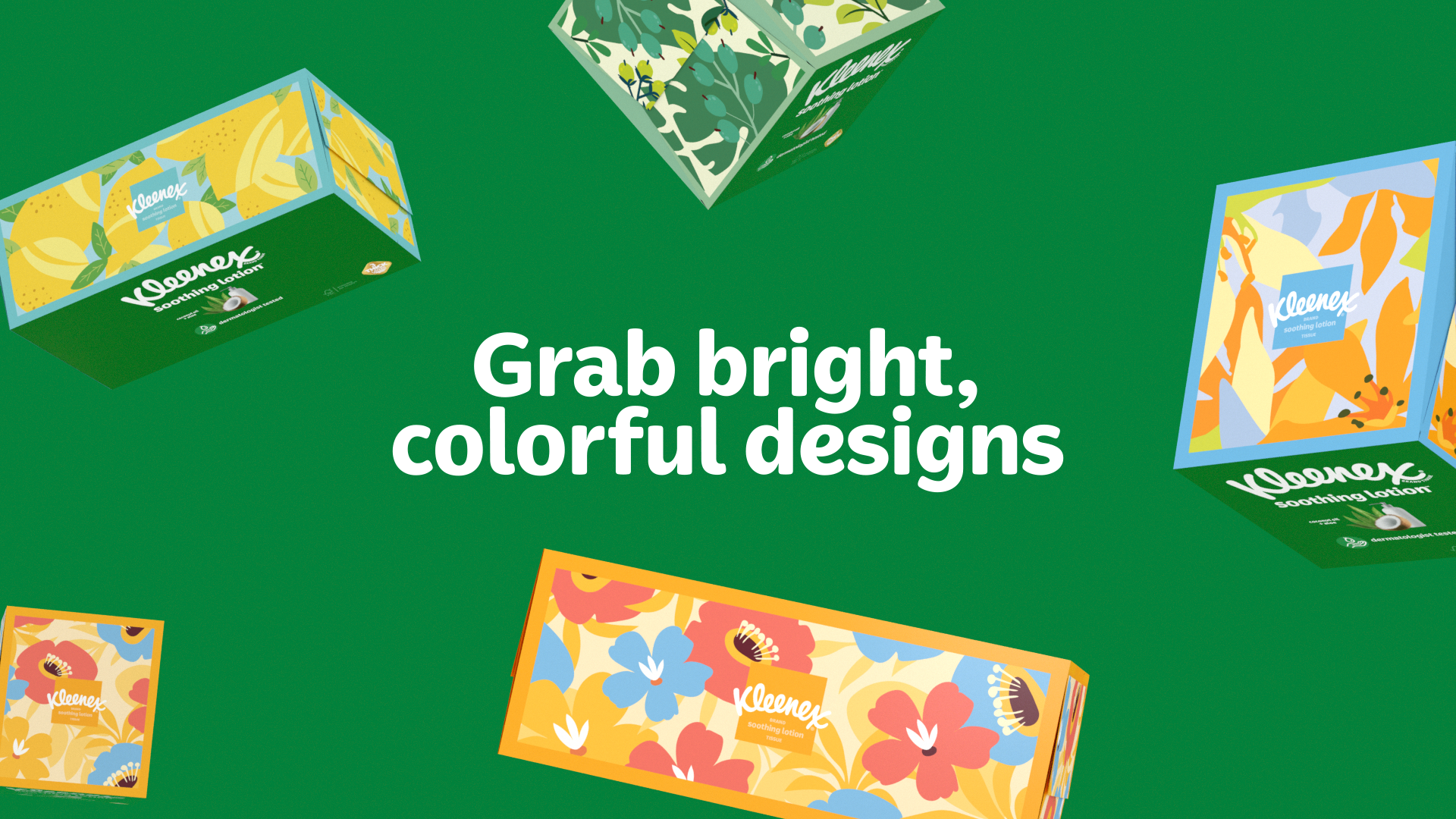 All ingredients are listed by order of predominance, meaning that the largest concentration of an ingredient is listed at the top and it moves down by amount.
INGREDIENTS

| INGREDIENTS | PURPOSE |
| --- | --- |
| Mineral Oil | A clear odorless liquid used routinely to help keep skin soft and smooth. It is also used as a component of adhesives. |
| Stearyl Alcohol | Helps keep skin soft and smooth. |
| Ceresin | A mineral wax. In wipes and lotions it is used to help thicken the lotion and to hold the ingredients of the lotion together. |
| Isopropyl Palmitate | Used to help keep skin soft and smooth. |
| Dimethicone | Helps keep skin soft and smooth and help our wipes glide across the skin. |
| Tocopheryl Acetate | Tocopheryl Acetate also known as Vitamine E Acetate. |
| Cocos Nucifera (Coconut) Oil | Used to help keep skin soft and smooth. |
| Aloe Barbadensis Leaf Extract | A plant extract derived from the leaves of aloe plants. |
Kleenex® Soothing Lotion™ Facial Tissues - Flat Box
These are rectangular boxes.
Our rectangular tissue box sizes are:
L x W x H
Soothing Lotion 120 ct. 8.875" x 4.75" x 3.4675"
Soothing Lotion Canada 8.875" x 4.75" x 2.75"
The Kleenex® Brand tissues you know and love are proudly made in the USA—
South Carolina, Connecticut, Oklahoma—and Ontario, Canada. 
We support forestry practices that help conserve valuable forestlands, respect fundamental
human rights and ensure a thriving ecosystem and a sustainable source of wood fiber for the
future—100% of our pulp is from responsibly managed forests.